Page 1 of 1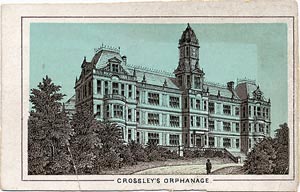 © Digital image copyright Calderdale Libraries
Crossley's Orphanage
View of the exterior of Crossley's Orphanage.
Author: Unknown
Date: not dated
Location: Halifax
Format: Postcard - Colour
Document ID: 100182
Library ID: 3424162X
The Orphanage is the Crossley and Porter Orphanage and Schools (now Crossley Heath School) founded in 1864. Today [2003] the building is a grammar school serving the Halifax area.