Page 1 of 1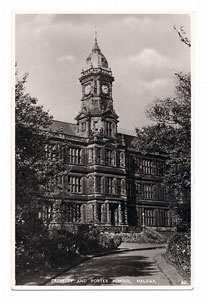 © Digital image copyright Calderdale Libraries
Crossley and Porter School, Halifax (Document ID: 100169)
View of Crossley and Porter School, Halifax, West Yorkshire.
Author: Unknown
Date: not dated
Location: Halifax
Format: Postcard - Mono
Document ID: 100169
Library ID: 34241603
Crossley Orphanage was founded by John, Joseph and Francis Crossley in 1864, for boys aged between 2 and 15 years, and girls up to 17 years. The building was designed by John Hogg.
The name Porter was added in 1887 when Thomas Porter made a large donation. It became Crossley & Porter (secondary) School in 1919 admitting day pupils.
Dr John Favour founded Heath Grammar School in 1600, under a charter set out by Queen Elizabeth. It was known as a free school, hence the road name 'Free School Lane'. The strongly Puritanical Favour was a topic often discussed at public meetings. Favour frequently participated in the torture and executions of priests who came to England preaching Catholicism.
Heath Grammar School and Crossley & Porter School merged in 1984, becoming Crossley-Heath School. Today Crossley-Heath School is a Grammar school serving the Halifax area.
Still standing 2003.