Page 1 of 1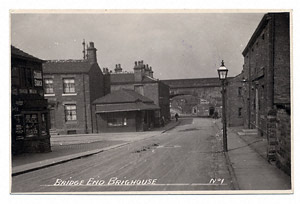 © Huddersfield Public Library
Bridge End, Brighouse
Photograph of Bridge End, Brighouse, West Yorkshire.
Author: Unknown
Date: not dated
Location: Brighouse
Format: Postcard - Mono
Document ID: 100155
Library ID: 34559670
The name of Brighouse, or bridge house, originally derives from a house which stood by Rastrick Bridge, a wooden bridge at Bridge End being recorded in 1275. In 1514 it was rebuilt in wood, and in 1558 was reconstructed in stone.
Snake Hill Ford, near Birds Royd Lane, was an important river crossing across the Calder in Roman times, being on the route between Manchester and Wakefield.
The Calder Bridge or Canal Bridge on the Bradford to Huddersfield turnpike road, now the Huddersfield Road, was opened in 1825, and widened in 1905.