Page 1 of 1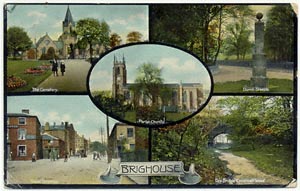 © Jackson & Son Publishers
Brighouse (Document ID: 100154)
Views Brighouse, W Yorks: Parish Church, Cemetery, Dumb Steeple, Trams, Dry Bridge - Cromwell Wood.
Author: Unknown
Date: not dated
Location: Brighouse
Format: Postcard - Colour
Document ID: 100154
Library ID: 34559697
Originally Brighouse, or bridge house; the name derives from a house which stood by Rastrick Bridge, and was originally a hamlet of Rastrick. Snake Hill Ford, near Birds Royd Lane, was an important river crossing across the Calder in Roman times, being on the route between Manchester and Wakefield. The parish of Brighouse was created in 1843 as part of the Hipperholme-cum-Brighouse township. In 1846 Brighouse separated from Hipperholme to form the Borough of Brighouse. In 1893 Brighouse merged with Hove Edge and Rastrick, with William Smith becoming the first mayor. In 1937 Brighouse incorporated Lightcliffe and Hipperholme. By 1974 Brighouse had become part of the Metropolitan Borough Council of Calderdale.
St Martin's Parish Church, on a hilltop overlooking the town, was designed by L. Hammerton and built in 1831 under the Million Pound Act, which provided money to build churches in industrial areas.
The Dumb Steeple is a plain stone column about 26 ft (8 m) high with a stone ball at the top. which stands near the crossroads of the Leeds and Wakefield roads near Cooper Bridge, along the Calder downstream from Brighouse. It may have been a boundary marker for Kirklees Park, which it adjoins. The stone figures in the stories about Robin Hood as a gathering point for his men, as well as being a place of sanctuary. The column was used by the Luddites as a meeting point for the notorious attack in April 1812 on Rawfolds Mill, Hartshead, where people were killed. It is still standing [2002] but now situated to the side of the road by the roundabout which has replaced the crossroads.
Dry Bridge is in Cromwell Wood in the Cromwell Brook valley west of Brighouse on the north bank of the Calder.