Page 1 of 1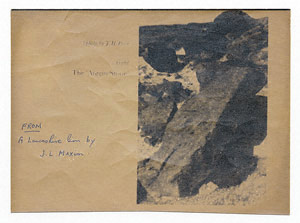 © Taken from 'A Lancashire Lion' by JL Maxim
Aigin Stone
Aiggin stone located on the border of Yorkshire with Lancashire.
Author: Unknown
Date: not dated
Location: Blackstone Edge
Format: Postcard - Mono
Document ID: 100115
Library ID: 34572795
The Aigin, or Aiggin, Stone is a 7ft (2.14 m) long stone pillar on the county boundary between Sowerby Bridge and Littleborough, above the Ryburn reservoir, on Blackstone Edge Moor. It may have been a way-marker and is situated near the cobbled pre-packhorse route over Blackstone Edge that some say is an old Roman road. The name is said to have derived from the French aiguille, a needle, or aigle, an eagle.
It was first 'discovered' lying prone alongside a pile of stones, with a large cross and the letters I and T incised into it. This irregular block of gritstone, about 10 inches (25.4 cm) thick and tapering from 2 feet 6 inches (76.2 cm) to 2 feet (61 cm), was re-erected in 1933, and now stands about 3 feet 6 inches (1 m) above the ground.
It was found prone again in 1978, and re-erected by members of Calderdale Countryside Services in the same year. After falling again in 1979, it was successfully re-erected by the Calder Valley Moorland Rescue Team at the bequest of Littleborough Civic Trust.