Page 1 of 1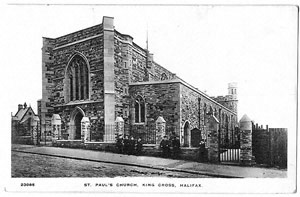 © Lion Series W. H. S. & S. Halifax
St Paul's Church, King Cross, Halifax
Exterior view of St Paul's Church, King Cross, Halifax, West Yorkshire.
Author: Unknown
Date: not dated
Location: King Cross
Format: Postcard - Mono
Document ID: 100106
Library ID: 34245831
St Paul's Church at King Cross was designed by R.D. Chantrell in 1845 for a congregation of 450. Consecrated in 1847, it soon became too small, with the last services in October 1912, before finally closing. With part of the roof collapsing in 1930, the church was demolished in 1931, leaving only the spire still standing. Burials in the graveyard ceased in 1969.
The site was opened as a rest garden in 1973, with the human remains undisturbed and some of the gravestones being reused.
A new St Paul's Church on Queens Road was built in 1911.