Page 1 of 1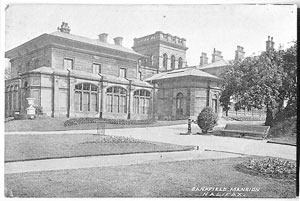 © Digital image copyright Calderdale Libraries
Bankfield Museum, Halifax (Document ID: 100094)
Exterior photograph of Bankfield Museum, Boothtown, West Yorkshire.
Author: Unknown
Date: not dated
Location: Boothtown
Format: Postcard - Mono
Document ID: 100094
Library ID: 34559590
Bankfield House was built for Edward Akroyd (1810-1887), who lived there from 1837 to 1856. The grandson of James Akroyd who in 1811 founded the world's largest worsted manufacturers: James Akroyd & Son. Edward was a benevolent employer, supporting many organisations and institutions which enabled his employees to seek better living conditions. He built Ackroydon to house his workers and provided them with low-cost allotments. He also founded All Souls Church in 1855, after purchasing a former Baptist church at Haley Hill.
It is now a museum, which presents international exhibitions of costume, fabrics, textiles, and toys.
Still standing 2003.