Page 1 of 1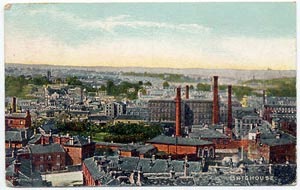 © Lion Series
Brighouse (Document ID: 100092)
A view of industrial and domestic buildings in Brighouse, West Yorkshire.
Author: Unknown
Date: not dated
Location: Brighouse
Format: Postcard - Colour
Document ID: 100092
Library ID: 34559734
View looking north over Brighouse town centre showing housing, factories or mills, and chimneys. St Martin's Parish Church is visible on the hilltop to the left in the far midground of the picture.
The parish of Brighouse was created in 1843 as part of the Hipperholme-cum-Brighouse township. In 1846 Brighouse separated from Hipperholme to form the Borough of Brighouse. In 1893 Brighouse merged with Hove Edge and Rastrick, with William Smith becoming the first mayor. In 1937 Brighouse incorporated Lightcliffe and Hipperholme. By 1974 Brighouse had become part of the Metropolitan Borough Council of Calderdale.
Originally Brighouse or bridge house, the name derives from a house which stood by Rastrick Bridge, and was originally a hamlet of Rastrick. Snake Hill Ford, near Birds Royd Lane, was an important river crossing across the Calder in Roman times, being on the route between Manchester and Wakefield.
The Calder and Hebble Navigation was navigated through Brighouse in 1760, where it rejoins the River Calder at the canal basin which was opened in 1768. Brighouse Railway Station was opened in October 1840 and closed in January 1970; recently the station has been restored and reopened.
The growth of the town resulted from production of worsted, woollen, cotton, silk, wire-making, and quarrying.