Page 1 of 1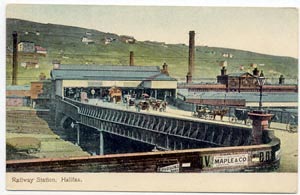 © Digital image copyright Calderdale Libraries
Railway Station, Halifax
View of the Railway Station, Halifax, West Yorkshire.
Author: Unknown
Date: not dated
Location: Halifax
Format: Postcard - Colour
Document ID: 100082
Library ID: 34560591
The present railway station, designed by Thomas Butterworth, was opened in 1855 to coincide with the opening of the Lancashire and Yorkshire Railway. The original station was situated at Shaw Syke (near the Shay), opened in 1844, then was demoted to become the goods yard. The building was extended in the 1880s and from 1890 it was known as Halifax Old Station, to distinguish it from St. Paul's Station at the junction of Queens Road and Parkinson Lane (passenger service closed in 1917). In 1951, the name changed again to Halifax Town, and in 1961 it became Halifax.
The station building has recently been restored and is still in use.
Halifax Station is a Grade II listed building. Still standing 2003.