Page 1 of 1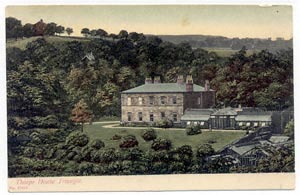 © W. H. Hall
Thorpe House, Triangle
View of Thorpe House and grounds, Triangle, West Yorkshire.
Author: Unknown
Date: not dated
Location: Triangle
Format: Postcard - Colour
Document ID: 100058
Library ID: 34561375
Thorpe House was built in 1804.
It had been home to Arnold Williams, Liberal MP for Sowerby in the 1920s, and during World War II served as officers' quarters for the Royal Engineers, after which it lay empty for 12 years.
In 1957, the mansion's dilapidated and run-down state was repaired and it was converted into a home for elderly people, which it remained until 1994 when it was closed down as a retirement home.
Triangle is an area of Calderdale on the main turnpike road between Sowerby Bridge and Ripponden in the Ryburn valley, and dates from the 19th century industrialisation of the valley.