Page 1 of 1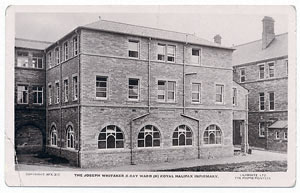 © Larkfield Group Limited
Joseph Whitaker X-Ray Ward (K) Royal Halifax Infirmary
Exterior view of x-ray ward at Royal Halifax Infirmary, Free School Lane, Halifax, West Yorkshire.
Author: Unknown
Date: not dated
Location: Halifax
Format: Postcard - Mono
Document ID: 100019
Library ID: 35499892
The old Halifax Infirmary at Dispensary Walk, Halifax originally catered only for out-patients when it opened in 1807. By the late 1800s it had moved to Harrison Road/Blackwall Street and expanded and outgrown that site.
In July 1896, the building on Free School Lane was opened by the Duke and Duchess of York (King George V and Queen Mary to be) and named the Royal Halifax Infirmary. The wards are named after the people who subscribed to the building costs and included local families and industrialists. The building closed in 2001 when Calderdale Royal Hospital opened.
In 2002, plans for the site included retaining some of the wards and the central administration block as apartments with gardens, with the remaining land used for housing.
Parts of the building and boundary wall are Grade II Listed Buildings.