Page 1 of 1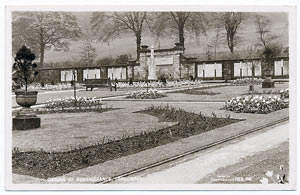 © Larkfield Group Limited
Garden of Remembrance, Todmorden
Postcard of Garden of Remembrance and War Memorial, Centre Vale Park, Todmorden, West Yorkshire.
Author: Unknown
Date: not dated
Location: Todmorden
Format: Postcard - Mono
Document ID: 100017
Library ID: 52115221
The memorial to the fallen Todmorden soldiers of the First World War (1914-18) is in the Garden of Remembrance in Centre Vale Park, Todmorden. The park is the former home of the Fielden family, local philanthropists and business folk.