Page 1 of 1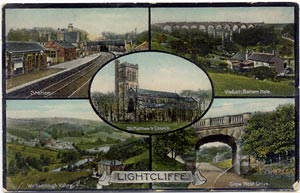 © Jackson & Son Publishers
Lightcliffe
Five views of Lightcliffe, West Yorkshire.
Author: Unknown
Date: not dated
Location: Lightcliffe
Format: Postcard - Colour
Document ID: 100014
Library ID: 52115539
Five views of Lightcliffe - St Matthew's parish church, Lightcliffe Railway Station, Bottom Hall Viaduct, Walterclough Valley and Crow Nest Drive.

The parish church is dedicated to St Matthew the Apostle. The original building - known as Eastfield Chapel - was built as a chapel-of-ease in 1529, the same year as Coley Chapel, and was endowed in 1536. It was repaired in 1598 and licensed for baptisms and burials in 1680. The original church was rebuilt in 1775 when William Walker brought timber from the Baltic coast of Russia, via Hull and then canal to Brighouse. The 1775 edifice was the work of William Mallinson (possibly designed by John Carr). Lightcliffe was created a separate parish in 1846. In 1875, another St Matthew's Church was built nearby, and the old church became the cemetery chapel, eventually falling into disrepair, and was partially demolished in the 1960s. Only the tower remains, standing near The Sun Inn at Lightcliffe. The building is a Grade II Listed Monument.

Lightcliffe Railway Station opened in August 1850 and closed for passenger traffic in June 1965. The Viaduct at Bottom Hall is north east of Lightcliffe and still carries the Halifax-Bradford line over Bottom Hall Beck.

Walterclough valley is north east of Southowram, and has the Sunny Bank Clough leading down to the Red Beck, downstream of the Shibden valley. The view is looking down to Lightcliffe on the hillside, with Upper Lake and Hipperholme Fireclay Works in the middle ground and Walterclough Hall is visible in the right foreground.