Page 1 of 1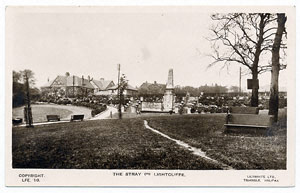 © Larkfield Group Limited
Stray (B) Lightcliffe
View of the Stray, Lightcliffe, near Halifax, West Yorkshire.
Author: Unknown
Date: not dated
Location: Lightcliffe
Format: Postcard - Mono
Document ID: 100012
Library ID: 52115571
The Stray is 11 acres of lawns and trees in a park between Lightcliffe and Hipperholme. The war memorial pictured was erected in 1923. In March 1936, an avenue of copper beech trees was planted as a gift from a Mr C E Dickinson. A further line of trees was planted in April 1937 to commemorate King George V's coronation.