Page 1 of 1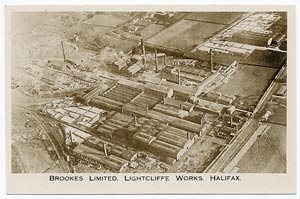 © Digital image copyright Calderdale Libraries
Brookes Limited, Lightcliffe Works, Halifax
Aerial view of Brookes Limited, Lightcliffe, Halifax, West Yorkshire.
Author: Unknown
Date: not dated
Location: Lightcliffe
Format: Postcard - Mono
Document ID: 100011
Library ID: 52115598
Brookes Limited was a quarrying company formed in 1840. The company grew steadily through the 19th century, patenting the non-slip paving stone in 1898. The result was that Brookes expanded its quarrying throughout the world. Brookes also had its own branch train line from the Lancashire and Yorkshire Railway. Brookes eventually closed in 1969 selling the majority of its Lightcliffe plant to the electrical company Phillips, formerly Ajax of Pellon Lane. Owned by Crosslee (White Knight, tumble drier firm) since 1986.
All that remains is one of the old non-slip works at Broad Oak, between Hipperholme and Hove Edge.
Demolished 29th October 1969.