Page 1 of 1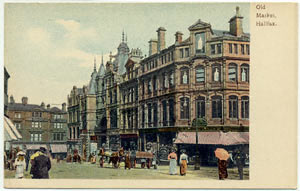 © Court Series
Old Market, Halifax (Document ID: 100008)
Exterior view of the Old Market, Halifax, West Yorkshire.
Author: Unknown
Date: not dated
Location: Halifax
Format: Postcard - Colour
Document ID: 100008
Library ID: 3456105X
Building work for the Old 'Borough' Market started in late 1891, with the foundation stone being laid in October 1892. Completed in early 1896, the total cost for the building work was approximately £130,000, a third more than first quoted. Opened on 25th July 1896 by the Duke and Duchess of York.
In 1896 the annual rent for the shops ranged from £13 and £36, stalls were rented weekly at a cost of half a crown to eight shillings. The shops in the Arcades were rented at £100 a year.
Some of the shops have lost their original Victorian frontages and in 1973 the stonework was cleaned removing 70 years' accumulation of smoke and grime. The interior was also re-painted.
Still standing 2003