Page 1 of 1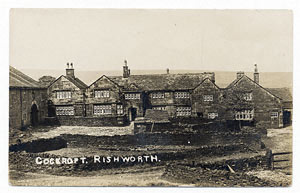 © Digital image copyright Calderdale Libraries
Cockcroft, Rishworth
Exterior view of Cockcroft, Rishworth, West Yorkshire.
Author: Unknown
Date: not dated
Location: Rishworth
Format: Postcard - Mono
Document ID: 100004
Library ID: 3456236X
The postcard shows Upper Cockroft Hall and farmhouse just off the Long Causeway in Rishworth, on the plateau above Rishworth School.
It is a substantial Elizabethan-style F-plan house built when farmer-clothiers were becoming the new wealthy class. The older timber-framed house was documented in 1546 as the home of the Holroyds. In 1607, it was cased in stone by George Holroyd, whose inscription is on the lintel "G.H. ANNO:DOMI: 1607".
Still standing [2003]. Upper Cockroft is a Grade II* Listed Building. The following entries are from Calderdale Council's listed buildings descriptions:
Upper Cockcroft Farmhouse: House dated 1607 with added porch dated 1701 attached to Upper Cockcroft (q.v.). Large dressed stone, stone slate roof. 2 storeys. 2 cells in line with rear rooms under paired coped gables. Plinth. Inserted doorway of 17th century character to left of 3-light chamfered mullioned window with same over to 1st floor. Double chamfered mullioned and transomed window of 12 lights with hoodmould with spiral stops with 4-light window over to 1st floor; fire-window altered to doorway now blocked to form modern window. Attached to right hand return wall is porch with basket arched doorway with moulded surround, the lintel inscribed "SEL 1701" (Samuel and Ellen Lees), scrolled plinth blocks. Porch protects original entry the lintel inscribed "G.H. ANNO:DOMI: 1607" to right of heck-post. The farmhouse is linked to Upper Cockcroft by a connecting room of 1642 which has 10-light double chamfered mullioned and transomed window with 5-light window over to 1st floor. Rear rendered but preserves some mullioned windows. One stack. Interior: Heck-post supports bressumer. Preserves jambs of fireplace with carved fleur-de-lys in relief.
Upper Cockcroft: House dated 1642 attached to Upper Cockcroft farmhouse (q.v.). Ashlar, stone slate roof. 2 storeys. 3-room through-passage plan with double-pile to rear of parlour and housebody, south front has twin gables to left of projecting 2-storey gabled porch. All are double chamfered mullioned windows with cyma moulded string course over ground floor windows (which have transomes) and hoodmould with decorated label stops over 1st floor windows. 12-light window with 5-light window over to 1st floor. In the valley between gables which are coped with finials, is decorated stone inscribed "(?) BBES 1642". 12-light window with cross-fire-window. 1st floor has 5-light window and arched light to left of porch which has rainwater spout to either side. Basket arched doorway with moulded surround, inner door has simple chamfer, 1st floor porch chamber has 5-light ovolo moulded window with columbarium to apex which has finial. Service end has 7-light window with 4-light window over to 1st floor to right of arched light. The rear has 2 gables to rear of double pile with other mullioned windows and finials to apex. Interior: Former service end is open to through passage which has wide stop chamfered floor joists. Wide segmental arched fireplace with joggled voussoirs has chamfered surround. Housebody has basket-arched fire-place with cyma moulded surround carried on crude columns, a unique feature in this district replacing a firehood (the evidence being the scarf jointed spine-beam). The former parlour has basket arched fireplace with joggled keystone. 1st floor has simple basket-arched fireplace with chamfered surround with fine plaster over mantel with heraldic devices set within 2 arcades initialled and dated "IB 1644". That to the housebody chamber has 18th century fireplace with architrave and pulvinated moulded mantelpiece. Kingpost roof truss with "V" struts has half lap joint on principal rafter, possible evidence of re-used timber from an earlier cruck-framed building. N. Pevsner, Yorkshire West Riding, (London, 1967) p.414.