Page 1 of 1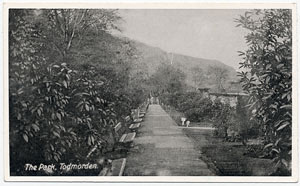 © Digital image copyright Calderdale Libraries
Park, Todmorden
View of Centre Vale Park, Todmorden, West Yorkshire.
Author: Unknown
Date: not dated
Location: Todmorden
Format: Postcard - Mono
Document ID: 100003
Library ID: 5211523X
The site of Centre Vale Park extends along the Burnley Valley for half a mile. A feature of the park is a Garden of Remembrance, Todmorden's War Memorial, with statuary work by Gilbert Bayes; the tablets record the names of the fallen of two World Wars. The area was originally the kitchen garden of Centre Vale Manse. The architects were Gilbert Bayes and Norman Thorp, ARIBA.
The original estate of 75 acres was purchased by the former Todmorden Borough Council from John A. Fielden for £10,547. Reopened on 30th March 1912 by the Mayor Alderman Robert Jackson and Councillor J. R. Dawson.
The first Bowling Green was opened in 1915, and in 1930 the miniature Golf Course was completed. The most recent addition has been an indoor swimming pool and leisure centre.
Still in use, 2003.