Page 1 of 1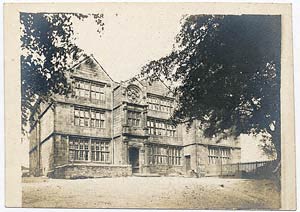 © P. Viendil
Barkisland Hall (Document ID: 100002)
Exterior view of Barkisland Hall, Barkisland, West Yorkshire.
Author: Unknown
Date: not dated
Location: Barkisland
Format: Photograph - Mono
Document ID: 100002
Library ID: 3549993X
The Old Hall stood further up the village of Barkisland and its site is now occupied by modern dwellings. The present hall on Stainland Road is an F-plan house erected in 1638 for John Gledhill, part of the locally important Gledhill family who married into the Barkisland line in the 1300s. John Gledhill's initials appear along with his wife's above the main doorway. Barkisland Hall was bought not long after it was built by the Hortons of Howroyd, who retained possession until recent years. M. Eli Sutcliffe, cotton spinner, was the next resident. As well as the ordinary features of a Stuart structure, it has a three storey porch, a carved oak fireplace and ornate plasterwork. Unlike other contemporary houses of the area it is of three storeys.
Lord Kagan, owner of Gannex textiles in Elland, bought the Hall in the 1960s as accommodation for his visitors. The building is now separated into six tenements and apparently has a large statue of the Buddha in the gardens.
Barkisland Hall is still standing [2003] and is a Grade I Listed building. The following is from Calderdale Council's Listed Building description:
House, 1638 for John Gledhill. Finely dressed stone, stone slate roof. Large magnificent house, double-pile with a fully developed F-plan throwing its porch into prominence. Unlike all other contemporary houses in the area it is of 3 storeys. Plinth, string course over ground and 1st floor windows, hoodmoulds with label stops to 2nd floor. 3-gabled facade linked by parapet with finely carved detail to this front. All windows are double chamfered mullioned and transomed with king-mullions and cyma-moulded mullions and transoms and elaborate label stops. 16-light window with 12- light windows over to 1st and 2nd floors. Projecting porch has elaborate doorway with Tudor arched lintel inscribed "1638 IG SG" with a carved face to the centre, moulded impost and moulded jambs with broach stop. The inner doorway of the porch is an arch, with moulded imposts and rusticated voussoirs. This is flanked by 2 orders of fluted columns, Doric supporting Ionic, the pedestals carved with and elaborate lozenge. Entablature with moulded string. 6-light window under which is carved bird and heraldic coat of arms. The top floor has a wheel window with tracery made up of 6 circles surrounding a central circle. Pedimented gable and parapet. Hall range has 24-light window with 18-light window over to 1st floor and 16-light to 2nd floor. Wing breaks forward; 16-light window with same over and 12-light window over to 2nd floor. Coped gables with bases for finials, carved figure to wing. The rear has double chamfered mullioned and transomed windows with plainer chamfered mullions. The 2 tiers of cross-windows at an intermediate level between storeys probably indicate the site of the original stair (which has been moved); the string course steps over these windows and is broken by the insertion of a taking-in door with monolithic jambs. Right hand return wall, of cross-wing, has similar windows all preserving their mullions and leaded paned glazing, and a stone inscribed "Nunc mea mox huius sed postea nescio huius". The east wing has a large stack with a cluster of 8 diamond-set flues, that to the west wing has 6 diamond set flues. Modern stack to central range. Interior: Largely remodelled but lavishly panelled in 19th century in imitation of the original period. The only early features are in 3 17th century fireplaces, all have Tudor arched lintel. That to hall has richly moulded surround. That to the south parlour of the west wing is inscribed "1605 IG" and is probably reused. The east wing has a fireplace with finely carved jambs with foliated balusters with scrolled capitals surmounted by carved faces. This is very similar to that in the hall of Norland Lower Old Hall, Sowerby Bridge (q.v.) dated 1634 and is likely to have been executed by the same mason. In effect the shell of a magnificent house, listed at Grade I as one of the finest prodigy houses of Calderdale . L. Ambler, The Old Halls and Manor Houses of Yorkshire, (London, 1913) p.16, 77. D. Hey, Buildings of Britain 1550-1750 Yorkshire, (Ashbourne, 1981) p.58, 60. T. W. Hanson, The Story of Old Halifax, (Halifax, 1920), p.121. N. Pevsner, Yorkshire West Riding , (London, 1967) p.90.