Page 1 of 31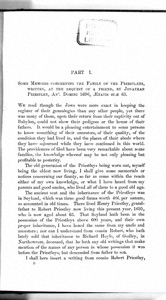 © Digital image copyright Calderdale Libraries
Some Memoirs concerning the Family of the Priestleys, Written, at the Request of a Friend
Taken from 'Yorkshire Diaries & Autobiographies in the Seventeenth and Eighteenth Centuries'.
Author: Jonathan Priestley
Date: 1696
Location: Soyland
Format: Biography
Document ID: 100962
Library ID: 28140937
According to this biographical study, the Priestley family had lived in the Halifax area for over six hundred years by the late 17th century. The main focus here, however, is on recent events and, hidden amongst the genealogical detail, are thumbnail sketches of incidents and episodes in the life of various members of the family that link in with the national storyline of the Civil Wars. Included in the narrative are references to the determination of Halifax clothiers to continue trading during these critical years.
Collection published in 1886.