Page 1 of 1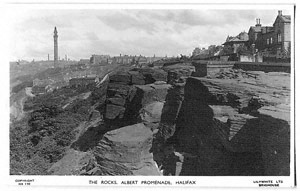 © Larkfield Group Limited
The Rocks, Albert Promenade, Halifax
Postcard of The Rocks, Halifax, West Yorkshire.
Author: Unknown
Date: not dated
Location: Halifax
Format: Postcard - Mono
Document ID: 100120
Library ID: 34 57271X
Situated between Skircoat Moor and King Cross, the Rocks have been used as recreational land since at least Victorian times. Albert Promenade, designed to allow the people of Halifax to view the Rocks and the Calder Valley, was opened in 1861.
Wainhouse Tower can be seen in the distance.