From Weaver to Web: Online visual archive of Calderdale History
Welcome to the online visual archive of Calderdale history, giving access to over 23,000 images, accompanied by supporting historical information.
The Calderdale area includes the towns of Halifax, Brighouse, Elland, Hebden Bridge, Sowerby Bridge and Todmorden.
From Weaver to Web provides access to a wide range of material which may be particularly useful to local and family historians interested in this area.
You will find photographs and postcards, maps, trade directories and handbills, among many other types of historical sources.
Archive feature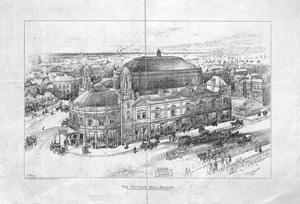 Lithograph of Victoria Hall (Halifax Civic Theatre) from an aerial view. From the print: signed "J. Raffles Davison [??] and W. Clement Williams, F.R.I.B.A. Architect" and "Photo-Lithographed & Printed by James Akerman, 6, Queens Square, W.C."
The theatre's architect was W.C. Williams (also Victoria Mills, West Vale) for the Victoria Hall Company. The Concert Hall & Public Rooms Co Ltd was formed in 1897 to buy the site at Ward's End, and the Victoria Hall Company built the Victoria Hall. The foundation stone was laid by Sir George Fisher-Smith on May 6th 1899. The carvings around the exterior of the building, including famous European Classical composers, are by Halifax sculptor R. Harvie. The building formally opened February 8th 1901 - the original opening being delayed by Queen Victoria's death - and included a performance of Beethoven's Funeral March by the Halle Orchestra in memory of Queen Victoria.
It was used as a cinema - from the 1930s [?] until April 1953 - and then again as a concert hall. In 1960, the hall was bought by Halifax Corporation for £82,000. After refurbishments and renovations costing £200,000 it became the New Victoria Hall in 1964,and then the Halifax Civic Theatre in 1972. It took its present name in 1994. It is a Grade II listed building.
The theatre is still standing [2002] and currently has around 1600 seats, running a programme of music, entertainment and theatre.
[Date unknown, prob. early 20th century]
Themes