From Weaver to Web: Online visual archive of Calderdale History
Welcome to the online visual archive of Calderdale history, giving access to over 23,000 images, accompanied by supporting historical information.
The Calderdale area includes the towns of Halifax, Brighouse, Elland, Hebden Bridge, Sowerby Bridge and Todmorden.
From Weaver to Web provides access to a wide range of material which may be particularly useful to local and family historians interested in this area.
You will find photographs and postcards, maps, trade directories and handbills, among many other types of historical sources.
Archive feature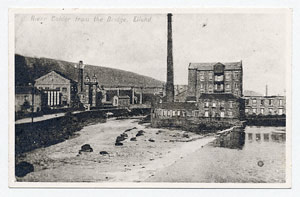 View from southern bank of Calder valley at Elland looking downstream showing the River Calder, Calder & Hebble Navigation, and Elland Bridge. Elland Park Wood and Binns Wood are in the distance. The town of Elland lies on the south bank of the Calder.
The area was called Elant in the Domesday Book, the name of the town Ealand being derived from Old English and meaning 'land by the water, river or land partly or wholly surrounded by water'. Alternate period spellings include Aelande, Ealand, Eiland, Elande, Eland, Ellande, and Elont.
A bridge over the river at Elland was mentioned in 1199 and 1316. Floods often damaged the bridge, and in 1579 the stone bridge was rebuilt by Richard Aske, stonemason from Hope in Derbyshire. This was again rebuilt in 1584 after the foundations collapsed, then swept away in 1615 and again replaced in 1617. The bridge was widened in 1797 and 1809, completed in 1813 and further widened in 1897.
The Calder & Hebble Navigation started life as a river navigation with a few short lock cuts. It links Sowerby Bridge (and the Rochdale Canal) to Wakefield (and the Aire and Calder Navigation). As it became prosperous, the more difficult or unreliable sections were bypassed by longer and longer canal sections. The Calder & Hebble locks use a particular handspike to operate the unique paddle gear.
In 1740 the first proposals for the construction of a navigable waterway were put forward to improve the transport system for the woollen industry and an Act of Parliament for the waterway was passed in 1768. By 1765 the canal was complete from Wakefield via Elland to Salterhebble, and in 1768 the Brighouse Canal Basin was opened. Over the next two centuries the navigation first prospered then declined until the last commercial boat usage in 1955. Since the 1970s more leisure traffic has developed on the waterway.
Fountains Abbey owned some land in Elland. Once there was a ducking stool here.
The M62 Motorway provides easy access to the north of England and has attracted many international businesses to the area.
Themes