From Weaver to Web: Online visual archive of Calderdale History
Welcome to the online visual archive of Calderdale history, giving access to over 23,000 images, accompanied by supporting historical information.
The Calderdale area includes the towns of Halifax, Brighouse, Elland, Hebden Bridge, Sowerby Bridge and Todmorden.
From Weaver to Web provides access to a wide range of material which may be particularly useful to local and family historians interested in this area.
You will find photographs and postcards, maps, trade directories and handbills, among many other types of historical sources.
Archive feature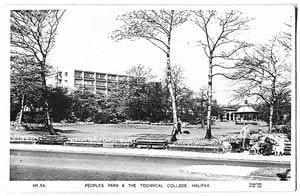 Technical education in Halifax started with the Mechanics Institute in 1825, first at Woolshops and then at Square Road.
The present building for the Halifax Technical College was built by Benjamin Whitehead Jackson in 1895, offering training skills.
After extensive building work, Percival Whitley College was opened 25th September 1957 on the same site by Sir John Wolfenden, C.B.E., Vice Chairman of Reading University. It offered courses in subjects such as heating engineering, motor mechanics and design work.
The Princess Mary High School opened in 1931 and closed in 1984 when it merged with Highlands School. The building was taken over by Percival Whitley College, later becoming Calderdale College. Halifax New College and Halifax School of Integrated Arts were combined to create Calderdale College.
People's Park came into being after a trip to New England by Sir Francis Crossley, who was so impressed by the beauty of the area that he attempted to recreate it in Halifax and "to arrange art and nature so that they shall be within the walk of every working man in Halifax; that he shall go to take his stroll there after he has done his hard day's toil, and be able to get home without being tired".
Created in 1857, the Park was donated to the people of Halifax by Sir Francis Crossley, to be maintained by the then Halifax Corporation for all time.
Situated at the western edge of the town, the 12.5-acre site is in the heart of a conservation area. Sadly, the park suffered a decline in recent years but recent restoration work means that once again, the People's Park is a green and pleasant haven for the people of Calderdale.
The restoration work, a major scheme jointly funded English Heritage, the Lottery Fund, Calderdale Council and West Central Halifax Partnership has returned the Park to a condition that will bring long-term benefits to users both locally and from further a field. Work commenced in 1995 and included repairs to the Crossley Pavilion, replacement of all perimeter fences and gates, installation of CCTV (seven cameras), complete refurbishment of the Bandstand, construction of a brand new children's play area, extensive replanting and landscaping works, restoration of water features: fountain, lakes, promenade, bridges, sun-dial, cleaning of the statues, provision of new toilets and an Information Centre, replacement of the terrace balustrades, refurbishment of all paths, new seating and bins.
Still Standing 2003.
Themes