From Weaver to Web: Online visual archive of Calderdale History
Welcome to the online visual archive of Calderdale history, giving access to over 23,000 images, accompanied by supporting historical information.
The Calderdale area includes the towns of Halifax, Brighouse, Elland, Hebden Bridge, Sowerby Bridge and Todmorden.
From Weaver to Web provides access to a wide range of material which may be particularly useful to local and family historians interested in this area.
You will find photographs and postcards, maps, trade directories and handbills, among many other types of historical sources.
Archive feature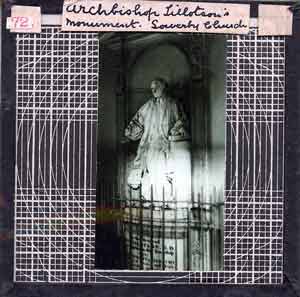 Born John Robert Tillotson, the son of a cloth-maker, at Old Haugh End, Sowerby on 10th October 1630. Educated at Colne, Heath Grammar School, and Clare Hall, Cambridge, where he studied Religion, graduating with a BA in 1650 and an MA in 1654.
In 1664 he married Oliver Cromwell's niece, Elizabeth French. In the same year he preached on 'The Wisdom of Being Religious'. In 1666, he published 'Rule of Faith', attacking Roman Catholics and dismissing James II's attempts to re-establish Roman Catholic right to ascend to the throne of England. William of Orange supported Tillotson because of this.
In 1670 he became the Dean of Canterbury and Chaplain to Charles II. Appointed as the Dean of St. Paul's in 1689, he became Archbishop of Canterbury in 1691, maintaining this post until he died in 1694 at the age of 64.
Tillotson's grave can be found in St Lawrence Jewry, London. A statue was erected at St. Peter's Church, Sowerby, in 1746.
The glass slide is from the John Bates Slide Collection held at Sowerby Bridge Public Library.
Themes