From Weaver to Web: Online visual archive of Calderdale History
Welcome to the online visual archive of Calderdale history, giving access to over 23,000 images, accompanied by supporting historical information.
The Calderdale area includes the towns of Halifax, Brighouse, Elland, Hebden Bridge, Sowerby Bridge and Todmorden.
From Weaver to Web provides access to a wide range of material which may be particularly useful to local and family historians interested in this area.
You will find photographs and postcards, maps, trade directories and handbills, among many other types of historical sources.
Archive feature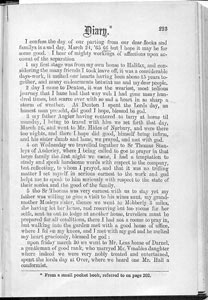 86 pages from "The Rev Oliver Heywood, B.A. 1630-1702; His Autobiography, Diaries, Anecdote and Event Books; illustrating the general and family histories of Yorkshire and Lancashire. Vol. I" edited by J. Horsfall Turner 1882.
Oliver Heywood was born in March 1629 in Bolton, Lancashire, the son of Richard Heywood. He attended grammar school before enrolling at Trinity College, Cambridge in 1648.
In 1650 Oliver Heywood became a Nonconformist minister at Coley Church, Hipperholme, before becoming the leader of nonconformity in the north of England, laying the foundations of congregational worship. In 1662 he was excommunicated for not using the Book of Common Prayer.
In 1655 he married Elizabeth Angier of Denton, the daughter of a Manchester clergyman, with whom he had two sons. In May 1661, Elizabeth died.
In 1665 Heywood moved to Lancashire, because of the 1665 Five Mile Act, which stated that clergy who refused to obey the Act of Uniformity were banned from living within five miles of their old Church. Whilst in Lancashire he remarried.
When the Five Mile Act was suppressed, Heywood moved to Northowram to establish a Nonconformist church on the principles of moderate Presbyterianism, but his licence was revoked in 1674. In 1685, he was excommunicated and convicted at Wakefield of having a riotous assembly in his house.
When James II came to the throne Heywood resumed his services at Northowram under the Toleration Act. In 1688 Heywood built a chapel on land donated by William Clay, and in 1693 he built the Bell School in Northowram. At this time Nonconformists were unable to teach so he enlisted Anglican David Hartley to work on his behalf. He was a passionate advocate of communication with other nonconformists, working with and preaching to Sowerby Independents, as well as being a founder of the Northgate End Unitarian Church.
In 1702, Heywood died and was buried at Halifax Parish Church.
For other related pages from "Oliver Heywood's Diaries", see documents:
Themes