Page 1 of 1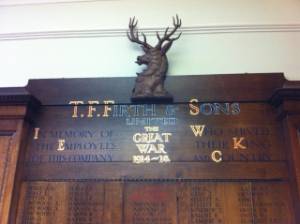 © Digital copyright Calderdale Libraries
TF Firth & Sons war memorial
Author: T.F. Firth & Sons
Date: not dated
Location: Brighouse
Format: Photograph - Colour
Document ID: 102725
Library ID:
This war memorial was constructed by T.F. Firth & Sons (later Firth's Carpets) of Bailiff Bridge, to commemorate employees who fought in the First World War. The memorial includes the names of staff members who survived the war, as well as those who were killed in action.

It was originally situated in the company's showrooms at Clifton Mills, before being moved into storage and then relocated to its present location at Brighouse Library.

In 2010, Ivor Davies completed a printed inventory of names and biographical details of individuals listed on the memorial. This document is available to view at Brighouse Library or in the Local Studies department of the Central Library & Archives in Halifax.