Page 1 of 2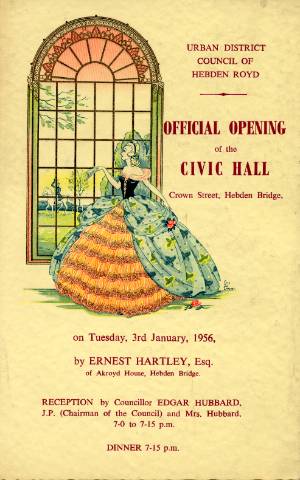 © Digital copyright Calderdale Libraries
Hebden Bridge Civic Hall
Author: Urban District of Hebden Royd
Date: 1956
Location: Hebden Bridge
Format: Pamphlet
Document ID: 102722
Library ID:
Hebden Bridge Civic Hall was opened on Tuesday 3rd January, 1956, amid much excitement and anticipation. Prior to the Civic Hall opening, the council chamber was the only venue for civic and public events in the town, which some local Councillors found to be unsatisfactory. This was certainly the case for Ernest Hartley, who was instrumental in acquiring and adapting the former Liberal Club building on Crown Street for use as a public space.

This event programme provides a menu and a running order for the evening's events. According to the Hebden Bridge Times & Calder Valley Gazette, the ceremony was a relatively lavish occasion attended by past and present Councillors from Hebden Bridge and surrounding councils.

The Civic Hall building is now a bar and restaurant.