Page 1 of 4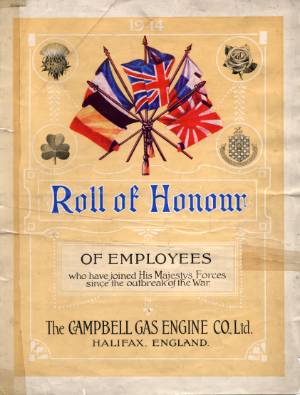 © Digital copyright Calderdale Libraries
Campbell Gas Engine Company Roll of Honour
Author: Campbell Gas Engine Company Ltd.
Date: 1914
Location: Halifax
Format: Index
Document ID: 102721
Library ID:
This Roll of Honour is a list of employees from the Campbell Gas Engine Company who served in the First World War, including those who survived the war and those who did not. The list provides the name, rank and regiment of each person listed.

Details of local men who were killed in action can be found in "Calderdale War Dead" by T.R. Hornshaw and M.W. Fowler. A digital copy of this volume can be viewed by following the "World War One Local Newspapers" link on the homepage of this website. Alternatively, hard copies are available on a reference only basis at the following Calderdale Libraries: Brighouse; Local Studies department at Central Library & Archives, Halifax; Elland; Hebden Bridge; Sowerby Bridge; Todmorden.