Page 1 of 8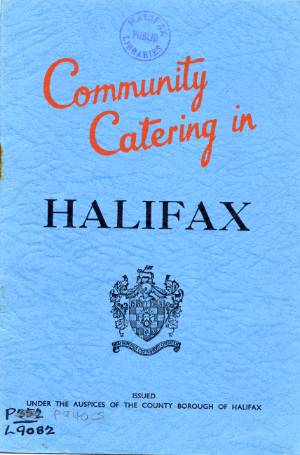 © Digital Copyright Calderdale Libraries
Community Catering in Calderdale
Author: Halifax County Borough
Date: not dated
Location: Halifax
Format: Pamphlet
Document ID: 102717
Library ID:
This public information booklet was issued to civilians by Halifax County Borough during the Second World War. Its purpose was to provide the people of Halifax with advice and information regarding emergency catering arrangements and local food supplies that they would be able to access if their homes were damaged during a bombing raid.

The booklet pays particular attention to British Restaurants, which were canteens that were established and run by local authorities to provide civilians and workers with nutritious and affordable meals. There were two such establishments in the borough: one located at Lower Market Hall and one at Stony Royd.

In addition to preparing meals for people to eat on site, the Stony Royd restaurant also prepared meals to be sent out to local firms for their workers.

The restaurants were supplimented by two Ford emergency food vans, which were presented to the Corporation by the Ford Emergency Food Vans Trust and staffed by the Womens¿ Voluntary Service (WVS).