Page 1 of 1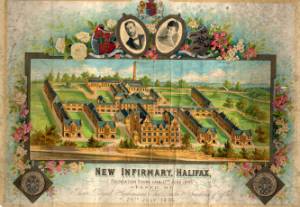 © Digital copyright Calderdale MBC
The Royal Halifax Infirmary
Author: Unknown
Date: not dated
Location: Halifax
Format: Painting
Document ID: 102714
Library ID:
This colour illustration shows the Royal Halifax Infirmary, which was opened on the 25th July, 1896 by the Duke and Duchess of York.

The Infirmary started life as a dispensary, which was originally situated in Hatters Close in Halifax. Dispensaries provided the poor with medication and emergency treatment. Halifax in the 1800s was a densely populated industrial town where overcrowding and poor living conditions made the local population more vulnerable to contagious diseases and other health problems. Predictably, the dispensary proved to be popular and soon found itself struggling to cope with the demands of a clientele unable to access medical help any other way. Therefore, 15 beds were placed in the dispensary to accommodate patients who were recovering from operations or serious accidents. In 1838 the dispensary moved to purpose built premises on Blackwall, where it began to receive more in-patients. It was at this point that the dispensary changed its name to the Halifax Infirmary. The hospital continued to expand until it had outgrown these premises. It was decided that the hospital should be relocated to a more suitable site and rebuilt to meet the needs and demands of a growing population. Land was acquired on Free School Lane, just outside Halifax Town Centre and the foundation stone was laid on the 17th June 1893. Building work was completed in 1896.

The wards are named after the people who subscribed to the building costs and included local families and industrialists.

The hospital continued to be funded by voluntary subscriptions until it was absorbed into the National Health Service in 1948. The building closed in 2001 when the Calderdale Royal Hospital opened. Some of the wards and the central administration block have been retained and converted into apartments, with houses occupying the remainder of the former hospital site.