Page 1 of 1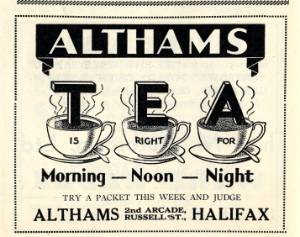 © Digital copyright Calderdale MBC
Althams Cafe
Author: Halifax Chamber of Trade
Date: 1936
Location: Halifax
Format: Advertisement
Document ID: 102415
Library ID:
As a thriving industrial centre Halifax was home to shops, trades and amenities of all descriptions. The Halifax Shopping Festival and Exhibition was organised by the Halifax Chamber of Trade to allow retailers and trades people the opportunity to promote their goods and services to local people. Although the majority of those who exhibited were local firms, some came to Halifax from further afield. The image on this page is taken from the festival handbook for 1936. The handbook was designed to give the public an idea of what to expect from the exhibition, in addition to other features such as short stories, articles and competitions.

Local residents seem to have been spoilt for choice regarding tea rooms and eateries. Altham's tearoom was located at 2nd Arcade, Russell Street, Halifax.