Page 1 of 1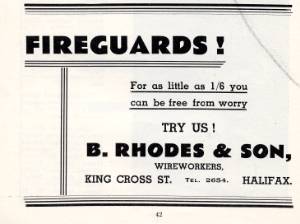 © Digital copyright Calderdale MBC
B Rhodes & Sons
Author: Halifax Chamber of Trade
Date: 1936
Location: Halifax
Format: Advertisement
Document ID: 102404
Library ID:
B. Rhodes and Sons were one of many firms to exhibit at the Halifax Shopping Festival and Exhibition. The festival was organised by the Halifax Chamber of Trade with the aim of promoting goods and services to local people. These services ranged from carpet manufacturers to car dealerships. A handbook was produced in order to introduce the public to the companies who would be exhibiting. It is from the handbook to the 1936 festival that our image is taken.

This advertisement is for a firm called Bethel Rhodes and Sons, who were wireworkers. Their premises were at 44 King Cross Street, Halifax.