Page 1 of 1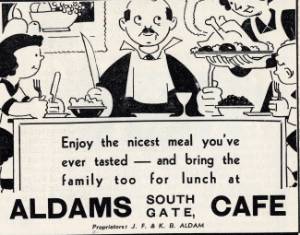 © Digital copyright Calderdale MBC
Aldam's Cafe
Author: Halifax Chamber of Trade
Date: 1936
Location: Halifax
Format: Advertisement
Document ID: 102364
Library ID:
The item that you see before you is an extract taken from a Halifax Shopping Festival handbook. The handbooks were designed to give visitors a flavour of the events that would be taking place as part of the festival week, as well as to advertise local businesses. Within each handbook people could expect to find; adverts for local retailers, services and manufacturers, the names and photographs of the principle members of the Halifax Chamber of Trade, accounts of people's shopping memories, articles regarding issues such as health and education, a list of exhibitions and events that are due to take place as part of the festival and competitions for readers.


The Halifax Shopping Festival took place over the course of one week. Organised by the Halifax Chamber of Trade, its primary aim was to actively promote local traders, goods and services. Exhibitors and advertisers included all kinds of businesses, from woollen manufacturers to car dealerships.

Aldam's cafe was situated on Southgate, Halifax and was run by Mrs Kate Aldam.