Page 1 of 1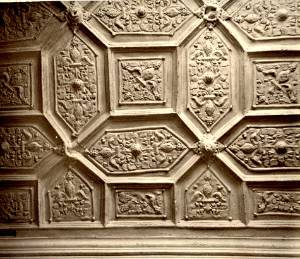 © digital image copyright Calderdale LIbraries
Barkisland Hall: ceiling detail
Plasterwork detail of ceiling at Barkisland Hall
Author: H P Kendall - photographer
Date: not dated
Location: Barkisland
Format: Photograph - Mono
Document ID: 102284
Library ID:
The Old Hall stood further up the village of Barkisland and its site is now occupied by modern dwellings. The present hall on Stainland Road is an F-plan house erected in 1638 for John Gledhill, part of the locally important Gledhill family who married into the Barkisland line in the 1300s. John Gledhill's initials appear along with his wife's above the main doorway. Barkisland Hall was bought not long after it was built by the Hortons of Howroyd, who retained possession until recent years. M. Eli Sutcliffe, cotton spinner, was the next resident. As well as the ordinary features of an Elizabethan structure, it has a three storey porch, a carved oak fireplace and ornate plasterwork. Unlike other contemporary houses of the area it is of three storeys.