Page 1 of 1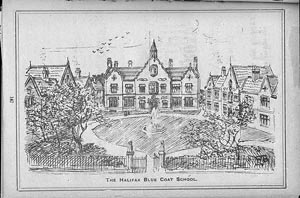 © Digital image copyright Calderdale Libraries
"Halifax Guardian" Historical Almanack and Literary Companion, 1906-1909
Illustration of "The Halifax Blue Coat School", from the 1909 Almanac.
Author: Unknown
Date: 1909
Location: Halifax
Format: Almanac
Document ID: 102148
Library ID: 2809914X
The Halifax Blue Coat School formed part of the Waterhouse Charity buildings which dated from the 17th century. The school shown here was built on Harrison Road in 1853 to replace the earlier buildings in the Church Street and was extended in 1885. The school and adjoining almshouses were demolished in 1965.