Page 1 of 3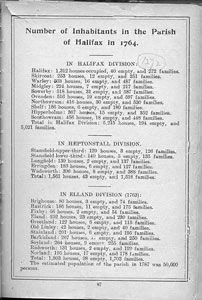 © Digital image copyright Calderdale Libraries
"Halifax Guardian&quot, Historical Almanack and Literary Companion, 1909-1911
Extracts from the Halifax Guardian Historical Almanack and Literary Companion of 1911.
Author: Unknown
Date: 1911
Location: Halifax
Format: Almanac
Document ID: 102145
Library ID: 13996265
These are the earliest figures available and give an indication of the population in the Halifax Parish in 1764. Unlike the official census of later times the figures quoted are for occupied and unoccupied houses and a rough estimate of the actual population can only be given by taking an average number in each family. Nevertheless the number of houses alone give a clear indication of the size of the parish and the sparsity of the inhabitants.