Page 1 of 7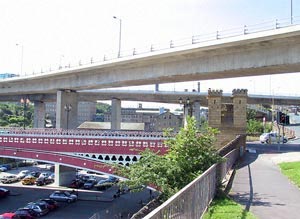 © Calderdale MBC
North Bridge and Burdock Way, Halifax
Series of photographs showing North Bridge and Burdock Way.
Author: Matthew Smith
Date: 16 August 2002
Location: Halifax
Format: Photograph - Colour
Document ID: 102107
Library ID:
North Bridge was opened to the public in 1774 and built at time of communication expansion with the building of the turnpikes from Bradford, via Wibsey and Queensbury. It lasted 100 years until the current North Bridge was completed in 1871.
A wooden bridge over the Hebble Brook was mentioned in 1277 at a Tourn (mediaeval court of the Manor of Wakefield) held at Halifax, and there were several bridges in the vicinity, linking the town to Leeds, Bradford and the north.
A single arched stone bridge was mentioned in 1719 by John Warburton in his survey. It collapsed ca 1770 during a Rogation Day ceremony of beating the bounds and was replaced by the 6 arched structure in the photograph in 1774. This was the first bridge to carry the road across the valley and not just the brook, eliminating the descent and ascent of the steep banks.
The present North Bridge, designed by John Fraser and opened in October 1871, was said to be the cheapest bridge in the country at the time - at a cost of £21,000. With two arches, each with 160 ft (48.8 m) span, and 16ft (4.9.m) in height, it carries the road 11 feet (3.4 m) higher than the previous bridge. A 75 ft high central pier contains a time capsule with coins, photographs, newspapers and documents.
In 1876, the bronze statue of Edward Akroyd was unveiled at the south-west corner of the bridge and then moved to All Souls' Church in 1901.
Burdock Way was opened in 1973 as part of the road improvments to the town of Halifax. The plans for a by-pass were originally drawn up in 1947. Named after Alderman Burdock chairman of the Highways Committee in the late 1940s and early 1950s. Burdock received his OBE in 1971.
In 2003, Burdock Way now carries the traffic even higher over the valley, and overshadows North Bridge, which is still used for light local traffic.
p. 2 to p. 5 taken on 30th January 2003.