Page 1 of 1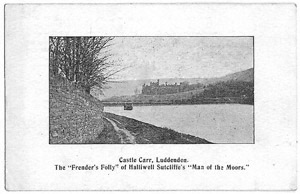 © Calderdale MBC
Castle Carr, Luddenden The "Frender's Folly" of Halliwell Sutcliffe's "Man of the Moors"
View of Castle Carr amongst reservoir and fields, Luddenden, West Yorkshire.
Author: Unknown
Date: not dated
Location: Luddenden
Format: Postcard - Mono
Document ID: 101925
Library ID: 34513859
Castle Carr was built in 1859 and was designed as a pseudo-Norman castle. Situated above Luddenden, it was used as a shooting lodge. The original owner Capt. Joseph Priestley Edwards was killed in 1868 before the castle was completed, his son finishing the building work in 1871. In 1962 the building was demolished after an auction of its structure and inside adornments. It was famous in its time for its water features and gardens, at one time boasting of a fountain taller than the one in Versailles. The land and what is left of the features, have been taken over by the Water Board. Access to the site is restricted, except on the annual open days.