Page 1 of 1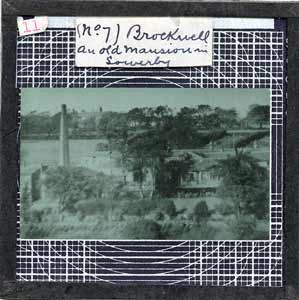 © Calderdale MBC
Brockwell an old mansion in Sowerby
View of Brockwell at Sowerby, West Yorkshire,
Author: Unknown
Date: not dated
Location: Sowerby
Format: Glass Slide
Document ID: 101852
Library ID: 11
The fields near the historic settlement of Brockwell, on the hillside below Sowerby village, are now occupied by late 20th century housing developments. The photograph [possibly late 1800s], shows Brockwell house with its woollen mill and dye house. There has been a house at Brockwell since possibly before the 17th century; the present double-fronted house built in 1766 uses elements from the earlier building. John Rawson, living here between 1840 and 1899, planted much of the woodland seen in the Ryburn valley. Still standing in 2003, the house and nearby cottages are Grade II listed buildings.
The glass slide is from the John Bates Slide Collection held at Sowerby Bridge Public Library.