Page 1 of 1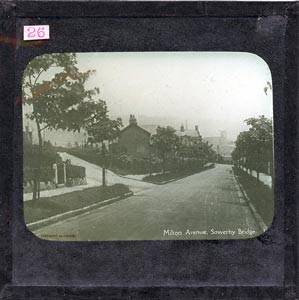 © Larkfield Group Limited
Milton Avenue, Sowerby Bridge
View down Milton Avenue into Sowerby Bridge, West Yorkshire.
Author: Unknown
Date: not dated
Location: Sowerby Bridge
Format: Glass Slide
Document ID: 101836
Library ID: 26
This picture, taken around 1925, of Milton Avenue, shows the trees, grass verges and gardens that were typical of the first council housing in Sowerby Bridge completed in 1923. In the distance, Sowerby Bridge and District Secondary School is visible. This subsequently became the Grammar School and then the High School. The building opened in 1910.
This information is taken from "Sowerby Bridge in Old Photographs" by John Hargreaves (Smith Settle, Otley, 1994). Hargreaves is a member of Halifax Antiquarian Society. The glass slide is from the John Bates Slide Collection held at Sowerby Bridge Public Library.