Page 1 of 19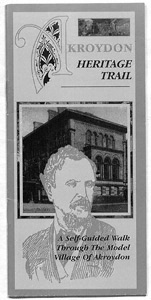 © Calderdale MBC
Akroydon Heritage Trail
Self guided walk through the model village of Akroydon.
Author: Anita Seymour
Date: not dated
Location: Boothtown
Format: History Trail
Document ID: 101715
Library ID:
Full description of the town of Akroydon, with illustrations, produced by Anita Seymour from Leeds University and the Town Planning and Leisure Services Departments of Calderdale Council.
Akroydon is a 'model village' north of Halifax founded by mill-owner and philanthropist Edward Akroyd in 1860. It is now a Conservation Area with many listed buildings.