Page 1 of 15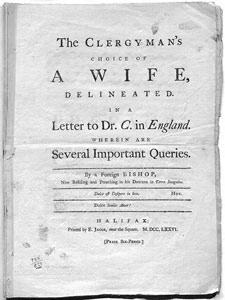 © Calderdale MBC
Clergyman's Choice of a Wife, Delineated in a Letter to Dr C in England Wherein are Several Important Queries
Comic poem about the celibacy of clergy and their need for companionship.
Author: Unknown
Date: 1776
Location: Halifax
Format: Poetry
Document ID: 101460
Library ID: 795821
"The Clergyman's Choice of a Wife, Delineated in a Letter to Dr. C. in England. Wherein are Several Important Queries. By a Foreign Bishop, Now Residing and Preaching in his Diocese in Terra Incognita." Printed in Halifax by E. Jacob, near the Square in 1776.
Contains two introductions (one in poem form), "The Foreign Ecclesiastic's Choice of an English WIFE, Delineated, in the following Queries.", "Miss's Answer to the Queries above." and "The Querist's Reply to Miss's Answer.".