Page 1 of 1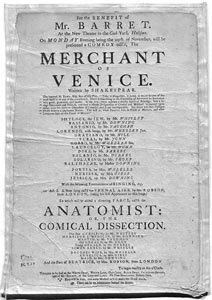 © Digital image copyright Calderdale Libraries
For the Benefit of Mr Barret At the New Theatre in the Cock Yard, Halifax Merchant of Venice by Shakespeare
Playbill for the New Theatre, Cock Yard, Halifax, c. 1765.
Author: Unknown
Date: not dated
Location: Halifax
Format: Handbill
Document ID: 101443
Library ID: P792R228
In the mid-18th century, theatres were often set up in or near public houses, and the New Theatre put plays on in the Old Cock Yard, Old Cock Inn, Southgate, Halifax. Compare the cast list with Doc 101442.