Page 1 of 16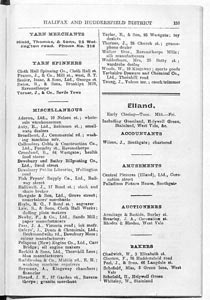 © Digital image copyright Calderdale Libraries
Halifax, Huddersfield and District Trade Directories, 1931-32: Elland, Hebden Bridge
Elland and Hebden Bridge pages of trade directory.
Author: Town & County Directories Ltd.
Date: 1932
Location: Hebden Bridge
Format: Directory
Document ID: 101342
Library ID: 28109737
The Edinburgh and Manchester publishers of the Town and County trade directories produced regional directories from the 1900s until the 1930s.
The pages list businesses alphabetically by trade.
For other related pages of Town & County Directories 1932 "Halifax, Huddersfield and District Trade Directories", see documents: