Page 1 of 2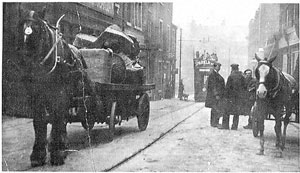 © Hendon Publishing Co Ltd.
View of the Grand Theatre and George Street, Halifax, West Yorkshire
Old photographs taken from "Halifax As It Was."
Author: Arthur Porritt
Date: 1973
Location: Halifax
Format: Book Illustration
Document ID: 101257
Library ID: 34767437
p1: The Grand Theatre & Opera House was opened at North Bridge in 1888 by the actor Wilson Barrett. Sir Henry Irving and his Lyceum Company gave four performances here in March 1903. The picture reveals the price of admission on normal occasions was from 2d. upwards. The Theatre was demolished in 1959.
p2: George Street has changed dramatically and is now a wide open square with seats and flower gardens. Pictured here is the area in the early 20th century, showing a narrow street with a single tram line.
For other related pages of Arthur Porritt's 1973 "Halifax As It Was", see documents: