Page 1 of 1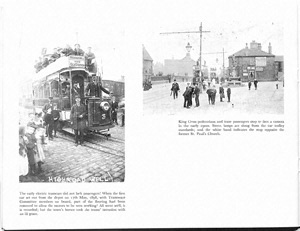 © Hendon Publishing Co Ltd.
Trams at Highroad Well and King Cross, near Halifax
Old photographs taken from "Halifax As It Was."
Author: Arthur Porritt
Date: 1973
Location: King Cross
Format: Book Illustration
Document ID: 101256
Library ID: 34767437
The first picture shows a tram at Highroad Well, to the west of Halifax. The vehicle is filled to the brim top and bottom with passengers
and shows three Tramway employees in uniform. The first tramcar set out from the depot on 17th May, 1898.
The second photograph shows a tramstop in King Cross in the early 1900s. St Paul's Church is just visible on the left of the picture. The tramstop is marked by a white band on the post of a car trolley standard.
For other related pages of Arthur Porritt's 1973 "Halifax As It Was", see documents: