Page 1 of 1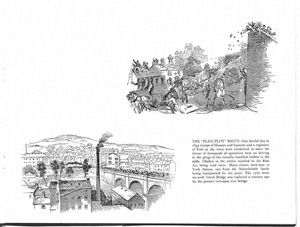 © Hendon Publishing Co Ltd.
Two illustrations of the Plug Riots of 1842
Drawings taken from "Halifax As It Was."
Author: Arthur Porritt
Date: 1973
Location: Halifax
Format: Book Illustration
Document ID: 101254
Library ID: 34767437
The 'Plug Plot' Riots refer to a couple of days in August 1842 when thousands of workers and Chartists, intent on pulling out the drain plugs of recently installed boilers in the mills, were met by troops of Hussars, Lancers and Infantry. The inevitable result was a series of clashes in the area, with people killed on both sides and the Riot Act being read out. Skirmishes occurred at Skircoat Moor, Perseverance Mill in Brighouse, the bottom of Salterhebble Hill, and North Bridge in Halifax. Many of those arrested were sent for trial at York Assizes, and one of those from Salterhebble was transported.
For other related pages of Arthur Porritt's 1973 "Halifax As It Was", see documents: