Page 1 of 2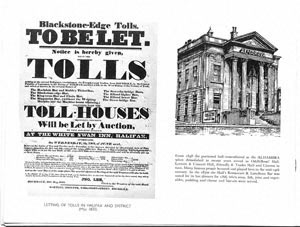 © Hendon Publishing Co Ltd.
Views of the Alhambra Theatre, Dean Clough and the first premises of John and Violet Mackintosh
Old photographs taken from "Halifax As It Was."
Author: Arthur Porritt
Date: 1973
Location: Halifax
Format: Book Illustration
Document ID: 101253
Library ID: 34767437
p1: shows a 'Tolls to be Let' hand bill from May 1833. Also depicted is a drawing of the Alhambra, which was built in 1838 and used as a theatre and concert hall. Demolished in the 1960s.
p2: has two pictures that show the "beginnings of two local empires". The first shows the home of John and Martha Crossley in 1801, and attached to it is the first building of Dean Clough Mills. It is from here that the John Crossley empire started. The other picture depicts the first shop to open in King Cross Lane, Halifax. The proprietors were John and Violet Mackintosh, who sold home-made toffee and confectionaries. From here developed the world famous John Mackintosh & Son Ltd.
For other related pages of Arthur Porritt's 1973 "Halifax As It Was", see documents: