Page 1 of 1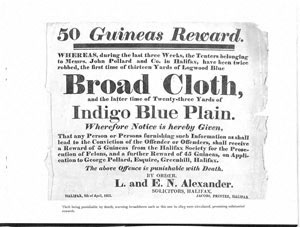 © Hendon Publishing Co Ltd.
Reward for the theft of 23 yards of Broad Cloth
Example of a reward handbill taken from "Halifax As It Was."
Author: Arthur Porritt
Date: 1973
Location: Halifax
Format: Book Illustration
Document ID: 101251
Library ID: 34767437
Order by L. and E. N. Alexander Solicitors of Halifax. Any information leading to the conviction of the Offender, or Offenders, shall receive a reward of 5 Guineas from the Halifax Society for the Prosecution of Felons, and a further reward of 45 Guineas from George Pollard. It is pointed out that the punishment for this crime is death.
Printed 9th April 1823, by Jacobs, Printer, Halifax.
For other related pages of Arthur Porritt's 1973 "Halifax As It Was", see documents: