Page 1 of 2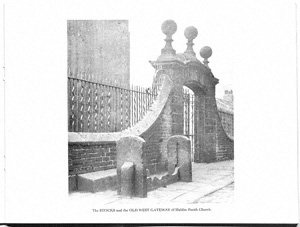 © Hendon Publishing Co Ltd.
Stocks and Old West Gateway of Halifax Parish Church, and Moot Hall, Halifax
Old photographs taken from "Halifax As It Was."
Author: Arthur Porritt
Date: 1973
Location: Halifax
Format: Book Illustration
Document ID: 101247
Library ID: 34767437
p1: Stocks and the old West Gate of Halifax Parish Church. This form of public humiliation was used to restrain and expose people convicted of misdemeanours; they would be locked into the stocks and would then be subject to the insults and missiles of passing folk. The stocks are still standing [2003] and in a bad state of repair.
p2: The Halifax Moot Hall (or Meeting Hall), near the Halifax Parish Church, was used for judicial proceedings or other meetings. It was under the administration of the Court of the Manor of Wakefield and, according to records, the 7th Earl of Warenne adjudicated here in 1286.
The mediaeval building was timber-framed and at a later date rendered with stone. After generations of neglect, and despite recommendations of scheduling as an Ancient Monument, it was demolished in June 1957, to be replaced by a paved area.
For other related pages of Arthur Porritt's 1973 "Halifax As It Was", see documents: