Page 1 of 2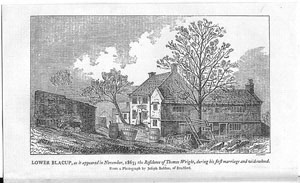 © Calderdale MBC
Autobiography of Thomas Wright, of Birkenshaw 1736-1797
Title page and frontispiece of autobiography of Thomas Wright, curate of Halifax and Ripponden.
Author: Thomas Wright
Date: 1864
Location: Birkenshaw
Format: Biography
Document ID: 100982
Library ID: 28129949
2 pages from "Autobiography of Thomas Wright, of Birkenshaw. 1736-1797." published in London 1864.
p1: Frontispiece illustration - engraving of "Lower Blacup, as it appeared in November, 1863; the Residence of Thomas Wright, during his first marriage and widowhood. From a photograph by Joseph Beldon, of Bradford". Lower Blacup is situated between Hartshead Moor and Cleckheaton, West Yorkshire.
p2: Title page - "Autobiography of Thomas Wright, of Birkenshaw. In The County of York. 1736-1797. Edited by his Grandson, Thomas Wright, M.A., F.S.A., Erc. Corresponding Member of the Imperial Institute of France. London: John Russell Smith, Soho Square. 1864." Birkenshaw is just north of Gomersal, West Yorkshire.