Page 1 of 43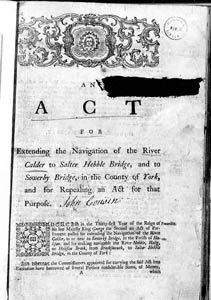 © Calderdale MBC
Act for Extending the Navigation of the River Calder, 1769
Act of Parliament for part of the Calder & Hebble Navigation.
Author: Great Britain Statutes
Date: 1769
Location: Sowerby Bridge
Format: Act
Document ID: 100934
Library ID: 28136647
"An Act for Extending the Navigation of the River Calder to Salter Hebble Bridge, and to Sowerby Bridge, in the County of York, and for Repealing an Act for that Purpose." Passed in the 31st year of the reign of George II [1789].