Page 1 of 37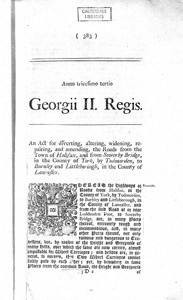 © Calderdale MBC
Act of Parliament, 1759
Act of Parliament for road maintenance in Halifax, Sowerby Bridge and Todmorden.
Author: Great Britain Statutes
Date: 1759
Location: Halifax
Format: Act
Document ID: 100931
Library ID: 28166950
"An Act for diverting, altering, widening, repairing, and amending, the Roads from the Town of Halifax, and from Sowerby Bridge, in the County of York, by Todmorden, to Burnley and Littleborough, in the County of Lancaster." Passed in the 33rd year of the reign of George II [1759].